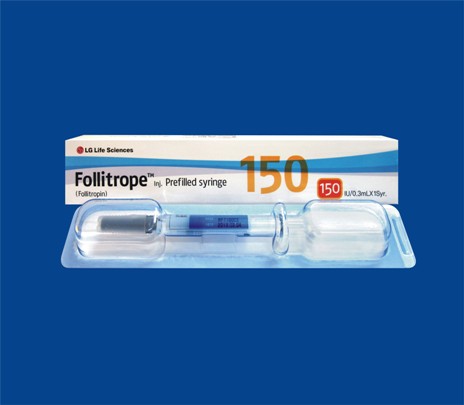 FOLLITROPE 150IU
Packing:
1 Prefilled syringe/pack
Manufacturer:
LG Life Sciences
Registration Number:
QLSP-1065-17
FOLLITROPE TM Inj. 150IU

Prefilled syringe
Recombinant Human Follicle Stimulating Hormone(FSH)
COMPOSITION Each syringe of FollitropeTM Inj. contains:
Active ingredient:

Recombinant human follitropin 150 IU/0.3mL

Excipients:

Glycine, Methionine, Polysorbate 20, Monobasic sodium phosphate, Dibasic sodium phosphate, Sodium hydroxide, Phosphoric acid, Water for injection.
DESCRIPTION Colorless light yellow solution for injection in prefilled syringe.
INDICATIONS Treatment of female infertility in the following clinical situations:
Controlled ovarian hyperstimulation to induce the development of multiple follicles in medically assisted reprodution progam (e.g. in vitro fertilization (IVF), gamete intra-fallopian transfer (GIFT) and zygote intra-fallopian transfer (ZIFT), intracytoplamic sperm injetion (ICSI).

Anovulation in Clomephene-resistant anovulatory infertility women (WHO Group II, including polycystic ovarian disease(PCOD)
DOSAGE AND ADMINISTRATION
Treatment with Follitrope should be initiated under the supervision of a physician experienced in the treaatment of fertility problems.
Follitrope is intended for subcutaneous or intramuscular administration .
Women undergoing ovarian stimulation for multiple follicular development prior to in vitro fertilization or other assisted reproductive technologies:
Various stimulation protocols are applied in order to suppress the endogenous LH serge and to control tonic levels of LH. A commonly used regimen for hyperovulation involves the administration of 150-300 IU of Follitrope daily, commencing on days 2 to 5 of the cycle. Treatment is continued until adequate follicular develoment has been achieved (as assessed by monioring of serum oestrogen levels and/or ultrasound examination), with the dose adjusted according to the patients , response, to usually not higher than 450 IU daily. In general, adequate follicular development was achieved on average by the tenth day of treatment. A single injeetion of up to 10,000 IU hCG is administered 48 hours after the last Follitrope injection.
Women with anovulation (including PCOD):
The object of Follitrope therapy is to develop a single mature Graafian follicle form which the ovum will be liberated after the administration of hCG.
Follitrope may be given as a course of daily injections. In menstruating patients treatment should commence within the fist 7 days of the menstrual cycle.
Treatment should be tailored to the individual patien , s response as assessed by measuring follicle size by ultrasound and/or oestogen secretion. A commonly used regimen commences at 75-150 IU FSH daily and is increased by 75 IU 7 or preferably 14 day intervals if necessary, to obtain an adquate, but not excessive, response. The maximal daily dose is usually not higher than abandoned and the patient should recommence treatment at a higher stating do se in the abandoned cycle.
When an optiman response is obtained, a single injection of 5,000 IU hCG, up to 10,000 IU hCG should be administered 24-48 hours after the last Follitrope injection. The patient is recommended to have coitus on the day of, and the day followin, hCG administration. Altermatively intrauterine insemination (IUI) may be performed.
If an excessive response is obtained, treatment should be stopped and hCG withheld. The treatment should recommence in the next cycle at a dosage lower than that of the previous cycle.
WARNINGS AND PRECAUTIONS
Contra-indications
Tumors of the ovary, breast, uterus, hypothalamus or pituitary gland

Pregnancy and lactation

Undiagnosed vaginal bleeding

Hypersensitivity to the active substance or to any of the excipients

Primary ovarian failure

Ovarian cysts or enlaged ovaries, not related to polycystic ovarian disease (PCOD)

Malformations of the sexual organs incompatible with pregnancy

Fibroid tumors of the uterus incompatible with pregnancy

The presence of uncontrolled non-gonadal endocrinopathies (e.g. thyroid, adrenai or pituitary disorders).
Warnings
Since infertile women undergoing assisted reprodution, and particularly IVF, often have tubal abnaomalities, the incidence of ectopic pregnancies might be increased. Early ultrasound confirmation that a pregnancy is intrauterine is therefore important.
The diagnosis of ovarian hyperstimulation may be confirmed by ultrasound examination. Ultrasonographic assessment of follicular development, and determination of oestradiol leves should be performed prior to treatment and regular intervals during treatment. If unwanted ovarian hyperstimulation occurs, the administration of should be discontinued and hCG must be withheld, because it may induce the ovarian hyperstimulation syndrome (OHSS). Clinical symptoms and sign of mild ovarian hyperstimulation syndrome are abdominal pain, nausea vomiting and weight gain. In rare cases, seevere ovarian hyperstimulation syndrome can happen characterized by large ovarian cysts (prone to rupture), ascites, often hydrothorax, which may be life-threatening. In rare instances, venous or arterial thromboembolism may occur in association with OHSS. But if hCG administration is withheld and intercourse is avoided at least for 4 days, excessive estrogen response does not cause ovarian hyperstimu lation.
The combination of both ultrasound and serum estradiol measurement are useful for monitoring the development of follicles, for timing of ovulatory trigger, as for detecting ovarian enlargement and minimizing the risk of the Ovarian Hypertimulation Syndrome and multiple gestation.
In anovulation, the risk of OHSS and multiple pregnancy is increased by high concentration of serum oestradiol and a number of matured follicle. Prior to therapy with Follitrope, patientsshould be informed of the duration of treatment and monitoring of their condition that will be required. To minimize ovarian hyperstimulaion and multiple pregnancy, monitoring is required.
There were no reports of hypersensitivity of human FSH , but the possibility of anaphylaxis response is present. The first injection of Follitrope should be performed under direct medical supervision.
Rates of prenancy loss in women undergoing assisted reproduction techniques, patients treatmented with FSH are higher than in the normal population.
Undesirable Effects
Unwanted ovarian hyperstimulation is observed

Clinical use of Follitrope by the intramuscular or subcutaneous routes may lead to local reactions at the site of injection such as bruising, pain, swelling and itching, the majority of wihich are mild and transient in nature. Systemic reaction was not observed.

A slightly increase risk of ectopic pregnancy and multiple pregnancies can be seen.

In rare instances, thromboembolism can be associated with hMG/hCG therapy. This may also occur with Follitrope/hCG therapy.

Most common unddesirable effects during the clinical test are headache, abdomen enlarged and displeasure. And fatigue, dizziness, side abdomen pain, ovarian hyperstimulation and fever are also reported.
Interaction
Concomitant use of Follitrope and Clomiphene citrate may enhance the follicular response.

After pituitary desensitization induced by a Gonadotropin Release Hormone(GnRH) analogue, a higher dose of Follitrope may be necessary to achieve an adequate follicular response.

No drug/drug interaction studies have been perfomed.
Pregnancy and lactation Follitrope must not be used during pregnancy and lactation.
Effects on ability to drive and use machines: No effects on ablity to drive and use machines have been observed.
Overdose: No data on acute toxicity of Follitrope in humans is available, but the acute toxicity of Follitrope and of urinary gonadotropin preparations in animal studies has been shown to be very low. Very high dose of FSH may lead to hyperstimulation of the ovaries.
INSTRUCTION FOR USE, HANDLING AND DISPOSAL
Do not use if the solution contains particles or the solution is not clear.

Once the syringe opened, it should be administered immediately.

Self-administration Instruction
Inject the amount of medication that was prescribed by your doctor. The next injection should be done at the same time the next day.
Wash your hands with water

Prepare alcohol swabs, the prefilled syringe of Follitrope for administration.

Choose an injection site. Your doctor or nurse will advise you where to inject. You should vary the injection site with each injection.

Clean the injection site with an alcohol swab. Let the alcohol dry before proceeding. Hold the syringe in the hand you will use to inject Follitrope. Use the other hand to pinch the skin a little.

Insert the needle at an angle (45-90 degrees ) into the skin. Slowly push down on the plunger all the time until all the Follitrpe is injected.

Immediately withdraw the needle and press the injection site with an alcohol swab for several seconds.

Discard used syringes immediately after injection.

Any remaining solution should be discarded.
STORAGE CONDITION: Store between 2~ 8oC in hermetic container protected from light. Avoid freezing.
SHELF LIFE: 36 months
MANUFACTURED BY: LG Life Sciences - 601 Yongje-dong, lksan-si, Jeonbuk-do, Korea